The Mincer Character Immersion is a guided deep-dive into the inner and outer world of your characters. It is a set of exercises that help explore the outer world in a variety of mediums, including map drawing and charting. We then move inward to explore the ways in which your character's surroundings affect their thoughts and inner dialogue.
The Course Will Cover the Following Topics:
A trip into your character's world exercise using art as a medium for exploration
Guided exploration of your character's surroundings including creating a map of the setting.
How to use the setting you've created to connect to your character's inner world
Web map and flow writing exercise that help you get to know your character on a very deep level
A repeatable set of exercises that can be used to get to know each of the characters on a very deep level
Who Should Take This Course?
Writers of fiction who are looking to strengthen their understanding of each of their characters
Individuals wanting to take their narrative skills to the next level and engage their future readership by crafting characters that are believable and whose narrative is compelling
 Previous experience is not required. You can be at the beginning stage of your writing process or very experienced. This workshop is designed for all levels.
What's included in this course?
Explorations you can use in your writing again.
Access to all the videos, audio, slides (in pdf) and any downloadable materials such as handouts or course readings for an entire calendar year from the date you sign up.
Course Curriculum
Available in days

days after you enroll

The Mincer-Character Immersion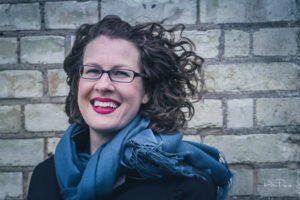 For the past sixteen years Britta has taught creative writing and edited books for both traditional and indie authors. She has received numerous awards, including the General Sharp Award from the US Army, for her innovative teaching of creative writing overseas with the Department of Defense Education Activity. She frequently works with authors in the following genres: Sci-Fi/Fantasy, Women's Fiction, Literary Fiction, Historical Fiction, Memoir, Thrillers, and YA. Britta also enjoys sharing her experiences in the indie author publishing space. Her debut novel Eloia Born was long-listed for the 2016 Exeter Novel Prize and reviewers are calling the book "both a dystopian narrative and a quest story; consider it a spiritual successor to Lois Lowry's The Giver and M. Night Shyamalan's The Village." The sequel, Hirana's War releases October 2020. Her stories have been shortlisted for the 2017 Henshaw Press and Fiction Factory prizes and she was published in the following anthologies: Stories for Homes, volume 2 and Sakura Dreams. She has a BA from Fordham University and an MA from Columbia University. Friends often refer to her as a polyglot—which is a product of living twenty-two years overseas in Japan, South Korea, and Germany before settling in Austin, Texas.
Reviews for The Mincer Character Immersion Workshop
"The class was so rich with ideas and wonderful exercises…I also loved the advice to not focus so much on rewriting the beginning (which is something so many of us do!) but instead to try to finish a draft and then go back to rework the beginning."
– Maureen Turner Carey, author & librarian
"I like the way you provide a mechanism to explore what a character might do, not necessarily in the context of the story, but just behave if I extracted them from the story and watched them go."
–Sam Ritter, author
I had been stuck on an important character who was acting only on the surface of herself: she was showing up in the right scenes and saying the right things. When I put her through this Mincer Workshop I discovered her core motivation which will allow a more purposeful character to have much more impact those same scenes and those same lines.
–Kellie McCants, author